Heritage Research
My series of paintings, collages and sculpture, entitled La Cueva de la Sirena are inspired by the history of my mother's birthplace, Isla del Tigre (Tiger Island), a small island in the Gulf of Fonseca, Honduras.
Thanks to archeologist, Marie Kolbenstetter's blog, and our subsequent email exchanges, I learned an incredible amount about Tiger Island. Marie's scholarly work centers around this very small area of Central America. I couldn't believe my luck! My family's history on the island goes back for many generations and yet knowledge of pre-Spanish history was non existent. When I asked Marie about this, she sent me photos of several indigenous antiquities she and her team found on Tiger Island and currently held in a museum in Honduras. These artifacts prove the presence of pre-Columbian indigenous peoples on an island long assumed to be barely populated previous to European settlement. Drawings of these objects are collaged throughout this body of work. See artwork for reference images.
Check out Marie's blog to learn more about her work in the Gulf of Fonseca.
Continued below....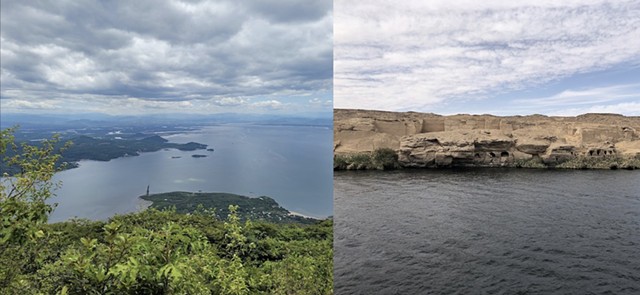 Left photo was taken from the top of La Isla del Tigre, Honduras (image credit Marie Kolbenstetter). Right photo of the Nile River in Egypt (image credit Jackie Milad)
Egyptian cultural heritage is dispersed throughout the globe, due largely in part to imperialism and colonialism and the lasting legacy of French and British control. Today, Egyptian artifacts are found globally across 27 nations, because of the export policies and diplomatic/political pressures by these two colonizing powers. There were plenty of good intentions from early western archeologists and 'Egyptologists'. I don't deny that the care of ancient artifacts is important and necessary. Unfortunately, often in the display of these objects, they are siloed from the political and social timeline of a modern nation. The outcome is a misrepresentation of modern-day Egypt to the rest of the world and distances Egyptians and diaspora from their rightful past. This motivates me to make artwork that is heavily researched to not only learn more about my ancestors but also create through-lines between the ancient past, modern history, and present-day.
Research Resources:
Information on 'Egypt's Dispersed Heritage: views from Egypt' : Quoted from the website: "From the 1880s to the 1980s hundreds of excavations were carried out across Egypt by British organizations. While many of the objects they discovered remained in Egypt, a large proportion were distributed to around 350 museums in 27 countries across the world. No other area of archaeology has a material legacy on this scale and, as such, ancient Egyptian collections have become some of the most popular in museums worldwide. The AHRC-funded project 'Egypt's Dispersed Heritage: views from Egypt', which is partnering with National Museums Scotland, seeks to communicate this history of dispersal and create opportunities for dialogue with modern Egyptian communities".
Audio Interview with Heba Abd el Gawad on Dispersed Heritage : In Ep.19, Heba Abd el Gawad, Egyptian Egyptologist and postdoctoral researcher on the Egypt's Dispersed Heritage project discusses her innovative and exciting project aimed to ensure that Egyptians in Egypt benefit from the UK-based findings on the dispersal of Egyptian heritage....
Cep, Casey. "Why King Tut is Still Fascinating." New Yorker Magazine, Feb. 27, 2022.
Colla, Elliott. "Conflicted Antiquities: Egyptology, Egyptomania, Egyptian Modernity". Durham and London, Duke University, 2007.
Stevenson, Alice. "Scattered Finds: Archeology, Egyptology and Museums". London, UCL Press, 2019
Reid, Donald Malcom. "Contesting Antiquity in Egypt: Archaeologies, Museums, and the Struggle for Identities from World War I to Nasser". Cairo, The American University in Cairo, 2019.